From 1909-11, the American Tobacco Company issued a popular set of baseball cards in various brands of its cigarette packs. The cards, known at T206 White Border, were 1 7/16 by 2 5/8 inches and are today the most popular of tobacco issues. Card backs contained advertising from one of 16 different cigarette brands. The most popular being Piedmont and Sweet Caporal. This is also the set where you can find the famous Honus Wagner. The winning bidder paid $1.265 million for the pleasure to own it this past summer.

The story goes that Wagner, an anti-tobacco advocate who played shortstop for the Pittsburgh Pirates, insisted his card be removed from the set. He didn't want kids to associate him with tobacco products. The cards were pulled, but not before some got into circulation. Approximately 50 of the Wagner cards are known to exist, but "The Wagner" is believed to be the only one graded in what's called "near-mint/to-mint" condition by Professional Sports Authenticators.

Various poses and backs make the T206 set very difficult to attain. Several error and variation cards make it almost impossible. But an individual T206 (see photos page) is easily available. Commons in lesser conditions go for about 20 bucks. Not bad for a ninety-plus year old antique.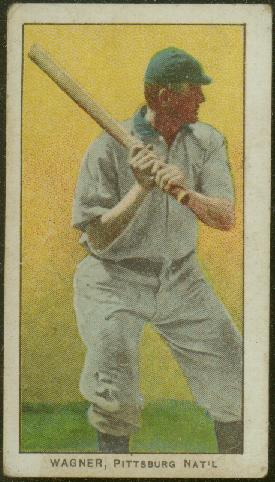 1909 E95 Philadelphia Caramels - Honus Wagner
Tobacco sets were not the only produced in the "golden era" of cards. Gum and candy companies also got into the act issuing similar style cards. The 1909 E95 Philadelphia Caramels (see above) was one those issued. Prices are similar to their tobacco cousins.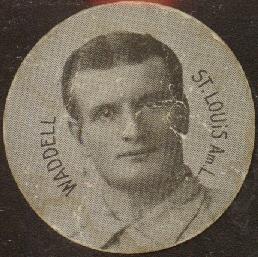 1909 E254 Colgan's Chips - Rube Waddell
The E254 Colgan's Chips (see above) was another unusual issue. These circular cards were inserted in small tins and were distributed with gum. Player photographs graced the front of the cards with advertising on the back. Cards can be found for about $30.
Another unusually large "cabinet" card produced during this era was the T3 Turkey Red (see photos page). These card measured 5 3/4 by 8 inches and were obtained by mailing in coupons from cigarette packs. Cards are expensive, usually $100 and up.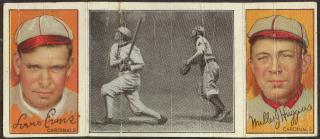 1912 T202 Hassan Triple Folder - Sullivan Puts Up A High One w/Evans and Huggins
By 1911-12 other tobacco issues like the T201 Mecca Double Folders and T202 Hassan Triple Folders (see above) began using player information on the backs of the cards along with advertising. These cards are more difficult to find but can be had for under $100.
Other favorite issues include the Obak and Zeenut sets of minor leaguers. And let's not forget the Imperial Tobacco issue from Canada.
In 1914-15 Cracker Jack (see photos page) issued from not only the National and American Leagues, but also the up-start Federal League. You can probably get one of these for about $75.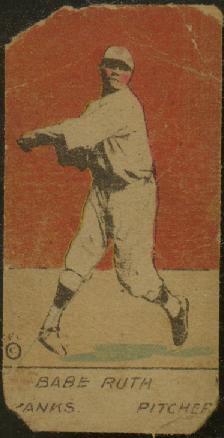 1920 W5I6-1 - Babe Ruth
By 1919 and into the 20's "strip cards" (see above) were being offered in penny machines. These cards were sold in strips of three or four and then cut apart. These inferior-quality cards are drawings with blank backs. They are very popular with collectors as major stars like Babe Ruth can be had for a couple hundred dollars, not a couple thousand.