The 1930's brought depression to the United States. The 1930's also boasted of great ballplayers like Babe Ruth, Lou Gehrig, Dizzy Dean and Jimmy Foxx.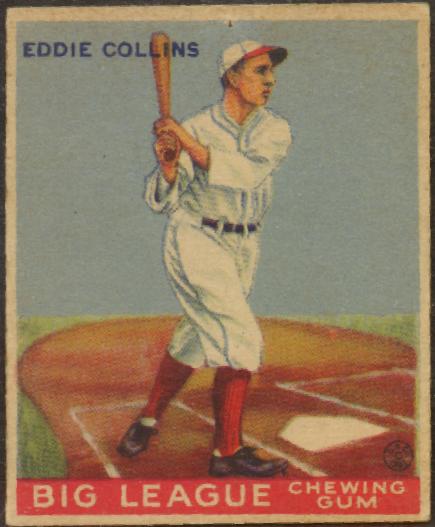 1933 Goudey - Eddie Collins
In 1933 The Goudey Gum company produced a 239-card set that would become one of the most sought after by collectors. The 1933 Goudey (see above) contained color drawing with biographical information on the card's back. Babe Ruth appeared on four different cards in this issue. While they are relatively easy to find, the Ruth cards will set you back several thousand dollars. Common examples usually go for under 50 bucks, depending on condition. Goudey would go on to produce cards until 1941, none as popular as it's rookie issue.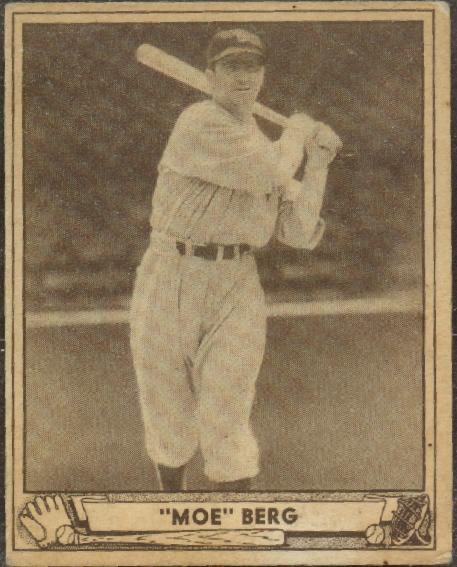 1940 Play Ball - "Moe" Berg
By 1939 Gum Inc. would go on to produce Play Ball baseball cards. The 162-card 1939 issue contained black & white photographs and were similar in size to Goudeys. Card #26 features Joe DiMaggio and is worth several thousand dollars. Play Ball's next issue contained 240 cards, many of them containing player nicknames. The 1940 Play Ball (see above) contained several future Hall-of-Famers. Card #27 contained a young outfielder for the Boston Red Sox named Ted Williams. The 1941 set was similar to the previous year except the player photos were colorized. While prices are a bit less than Goudeys, Play Balls seem more difficult to find.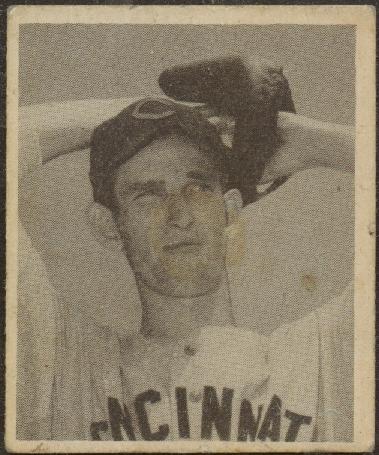 1948 Bowman - Ewell Blackwell
The late 1940's brought two new players to the baseball card game. In 1948 the Bowman Gum Company produced one of the first sets of the post-war era. The 1948 Bowman (see above) contained only 48 cards but this set would establish Bowman as the major card producer of the time. Bowman went on to produce card until 1955. Prices vary depending on player and condition.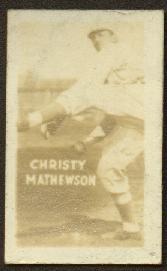 1948 Topps Magic Photo - Christy Mathewson
The Topps Gum Company also got into the act in 1948 with a 19-card subset known as "Magic Photos". The cards contained a self-developing photo. When wet and held to the light, a baseball-related photo developed. Backs of cards had questions related to the player on the front. These cards are extremely hard to find and their prices reflect that. Examples range from $50-$500 each, if you can find them.